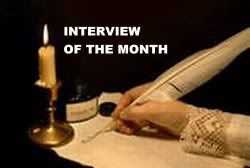 JAY SMITHE
1. Tell me something about your family - what do you think about them, your fondest memory of them and how has been your relationship with them?
My childhood was fun, we lived on an estate with good amount of land, so for myself and my brothers and sisters life was easy and carefree. My father ….I fear my disappointment in him guides my hand when writing, but I lost all respect for him, he is however my father and as such I would not insult him here, we are estranged. My mother is dutiful, a little dizzy in her behaviour at times, and my siblings are or were my friends and fellow adventurers.
2. Which is your favourite possession and why?
I have my long coat that I won the funds for in a card game, it is custom made, and as soft a material and warm as I could need on a cold night at sea. For newer possessions, I devour books when they are available, science is just beginning to emerge into main stream, and I am a believer in the new sciences.
3. How do you spend your free time?
While on ship I enjoy to read, try out small adjustments to sails to see the effects on speed and steadiness, experiment with new shaped sails or tail ends that fit to ropes for the minute changes. I enjoy it when Scrum and others that can play and sing make a night of it, nothing is more enjoyable than tapping my feet and reading watching the crew enjoy there time.
4. Who was your first love and what happened?
I don't think I have really ever been in love. I have been in lust, I have been besotted, I have suffered puppy love, but real love has not granted me its favours yet. My first puppy love was for a milk maid in the house, she had the shiniest sun coloured hair, and a figure that nipped in where it should and blossomed where it should. When she smiled at me, I melted and followed her spying on her for weeks like the love sick pup I was, she crushed my heart when she told me I was too young for her and to come and find her again when I was a man. ~ said with fond memories and a smile~
5. What are you proudest of?
My Captaincy, I never thought I would be Captain, in the navy the costs would have been beyond me, I settled for sailing master thinking that was all I could hope for. To be both is a source of great pride for me.
6. Which are your goals in life?
To Master being a Captain, to understand my ship down to the last movment, to be able to make the right choices that lead to keeping the ship and crew safe, and to never let them down.
7. What is your favorite possession? Why?
My long coat as I mentioned earlier, and a new barometer, fine design and well made.
8. What do you think of the war going on in the Caribbean ?
England is the pride of the world, she should hold firm to her colonies, and not allow other countries to seek to override them. As English citizens we bring wealth and education to other countries, and set up trades and legal systems, our conquests flourish under our rule and so it is right we fight to keep those countries.
9. What do you hope and what do you fear for the future?
My hope is to do well as Captain and make the crew wealthy but also happy, my fear?… That my own demons will re-emerge once the newness of being Captain is conquered and a game will call me, the cards I know just as they did with my father have a terrible hold over me.
10. What do you think your greatest weakness is?
The card table, it is my love and my horror. I can feel the tables call me, I love the excitement, the intricacy of the game, but I deplore what I become when I cannot walk away from a hand and the evil immoral things I have done to achieve the card game. I consider myself a Godly moral man, yet to satisfy my own perversion I have stolen from others, friends and strangers, in my defence I always mean to pay them back when I win, but sometimes the cards have failed me and I have left others without because of my sin.
11. Why have you chosen the sea, first of all? Then why have you chosen to be a privateer and what do you like about your profession? What don't you like?
I wanted to be an officer in the Navy since I was young, my brothers would play sword fights and jump from log to log bounding up make believe ships as we boarded them. I was unable due to my father to attain Officer Status, money was the issue and we had not enough left after his own gambling addiction. I trained hard to be a Sailing Master and after a rather 'unfortunate incident I would rather not mention I left the Navy and joined the merchants, then privateers. I love all of it, I would not now want to go back to the Navy that are too stringent in there class distinctions; I enjoy the company of all men now, not just the educated at the board room.
12. When have you been the happiest and why?
Guiltily I confess it is on a busy night in a gambling house, when Lady Luck has blessed me, and the dice never fall wrong. Each throw brings in joy, each card falls right and you know that feeling of great heat inside you that you know will bring victory. To pull the coins to you after a night of challenges with good players is a feeling nothing as yet has beaten. I am lost I am afraid to seeking out that feeling again and again.
13. What is the thing that has frightened you the most?
I was frightened in the storm, not because of the storm; I have suffered those before, but that the men were counting on me. Faulted me, inexperienced as Captain, and my choices caused damage that caused some to be lost at sea, and could have sank us all. I now have to put myself second, I must conquer my demons and strive to find out all I can about the ship and how it moves and works in all weather, I never want a man's life to be lost due to something I should have done differently.
14. What is the fondest childhood memory you have?
My milk maid~ grinning then answers more politely.~ Just the carefree life of a indulged child, allowed to run and play , given a sound education and allowed time to read or do what ever I desired, the freedom of no worries.
15. How do you imagine Ren would fare in your life?
I think he would rather enjoy it, he likes being in control, he doesn't do well with being a subordinate, and to take a ship out and have full sails up so it races over the surface would give him great pleasure. He would rather enjoy the gambling side and drinking side too, he's not one for wenching….. but there is many a private club house that would hold his interest.
16. What does Ren do that annoys you?
He spends far too long rebelling, and making a point of rebellion, doing things just to annoy those that try to control him. He plays up to being the bad boy' the family black sheep' giving people lots of reason to say ' you see he is impossible' rather than doing things for himself that he would love to do.
17. What characteristic of Ren's do you wish you had?
I think I am blessed already with one of his better characteristics, once a friend and once you have proved yourself loyal to him; he would defend you and protect you to his fullest. Perhaps I would like some of his charm, he can turn it on in an instant, even to those he doesn't like, if it makes a sale then he is totally able to hide his true feelings to you. He has a wonderful poker face.
18. What is the one thing you would like to be remembered for after your death?
Something honourable rather than my eviction from the Navy, I would like people to say, ' he was fun and a man that enjoyed to party, and yet he was still one hell of a Captain. Or perhaps…..John Cavendish isn't that the man that invented that fine ……..~ smiles and doesn't know what the invention might be yet.
Click on the photo to read the whole Chronicles!